Our train arrives at 6:05 in the city of Kamenskoe.
"Kamenskoe" just recently changed its name; until 2016, it was known as Dniproderzhinsk, named in honour of the brutal tyrant of the Soviet Union, Felix Derzhinskiy, who was Chief of Lenin's secret police, the "Checka", responsible for the Red Terror that followed the communist takeover in Russia in 1917.
To name a Ukrainian city after Derzhinskiy or Lenin was a bit like Germans after WW2 naming Hamburg or Dresden, "Adolf Hitler Stadt" or "Joseph Goebbels Town". Thank goodness that Ukraine has finally realised (as Germans thankfully did several decades ago) that it doesn't make much sense to name its great cities after mass murderers!
Anyway, back to the diary…
Kamenskoe is located on the Dnipro river in the Dnipro region, which is the heartland of DHM's ministry. Kamenskoe does not make a sympathetic impression on its few visitors. Everywhere, in all directions, there is nothing to see but dilapidated, crumbling buildings, derelict houses, monstrous factories and packs of stray dogs roaming the streets.
When we arrive at the station, we are met by our friends, led by Rev Alexander Boiko and his wife, Irina, from the Ukrainian town of Vasylkivka. For the DHM trustees it is a blessing to see for the first time the DHM minibus that Pastor Alexander has brought to take us to our hotel. We drop off our luggage at the hotel and freshen up ahead of this morning's church service at Kamenskoe Pentecostal Church. The pastor there has invited the DHM to lead the church in worship this morning, so we improvise a rough order of service in which each each member of the DHM participates.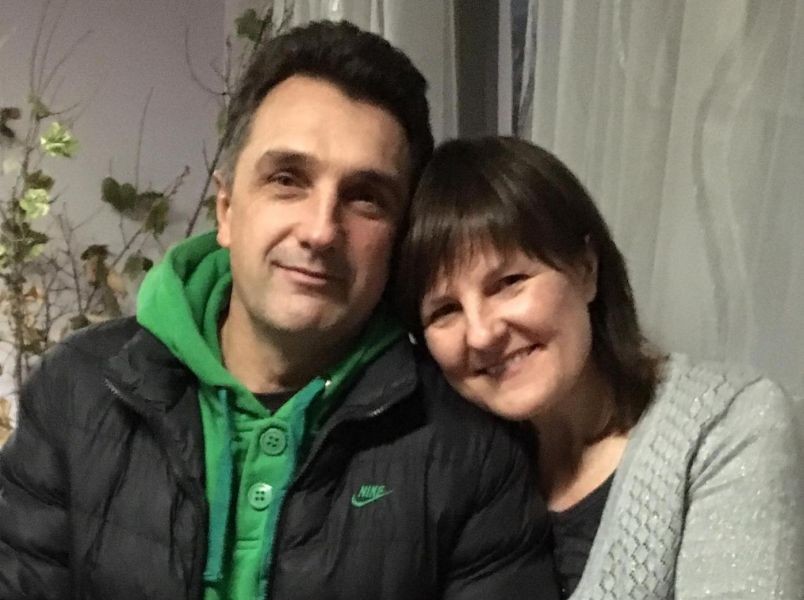 Alexander and Irina Boiko. Alexander is Pastor of Vasylkivka Baptist Church
On the way to the church, I notice that the sun has finally risen. Even at dawn, I observe that in Kamenskoe everything looks grey and nebulous, like a dreary mirror image of the menacing overcast sky above. The only really conspicuous colour to be seen as we drive through the city is a huge plume of toxic-looking smoke, billowing red as a ripe cherry, out from several collosal chimneys of an even more collosal factory in the distance.
When we arrive at the church we are surprised by the size of the congregation. There must be around 300-400 people here – more than we had expected! We are greeted by pastor Anatoly and his team. We are glad to make the acquaintance of Alexei and Oleg, who lead the church's ministry to a care home for disabled home, which the DHM team is scheduled to visit tomorrow.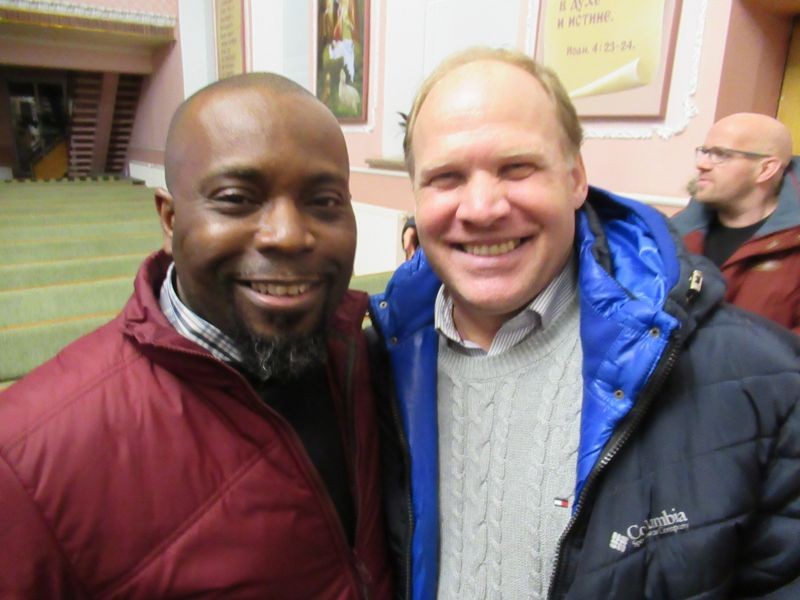 DHM trustee, Deji, with Pastor Anatoly, who leads the Pentecostal Church in Kamenskoe
The DHM team does a magnificent job in leading the service! Deji from Peckham has the congregation entranced as he sings gospel-style about holiness; Nat from Kent gives a powerful testimony about how Christ miraculously transformed his life, leading him away from addiction to drugs and alcohol and into a life of Christian ministry; Jennifer from Croydon leads us in a powerful prayer in which the presence of the Holy Spirit becomes almost tangible; Joel from Surrey, who recently graduated in Modern Languages, reads from the Bible in Russian; Varduyi translates all kinds of diverse English dialects into clear, pristine Russian. I (Joshua) am glad of the opportunity to preach in (much less pristine!) Russian about a topic close to my heart: Церковь без стень – or "church without walls".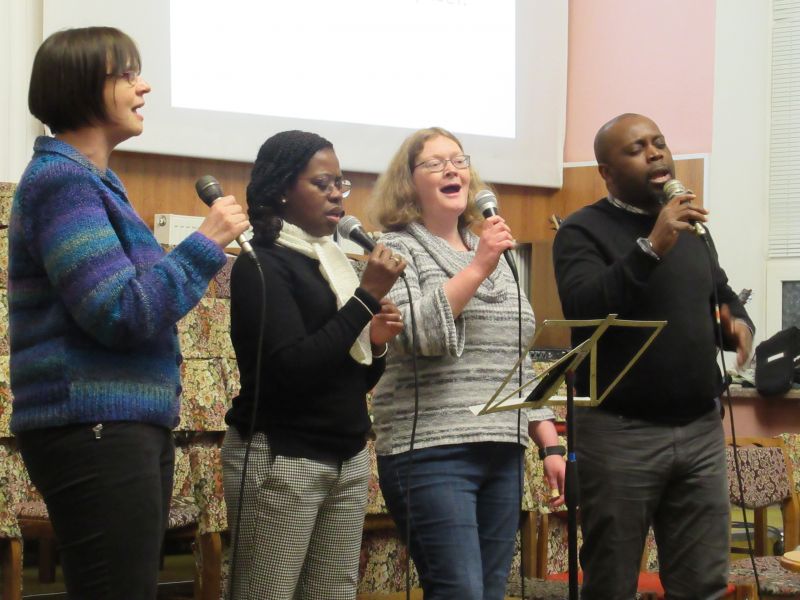 Members of the DHM Team lead Kamenskoe Pentecostal Church in worship
After the service, we have a delicious lunch at a nearby "American Roadhouse" restaurant.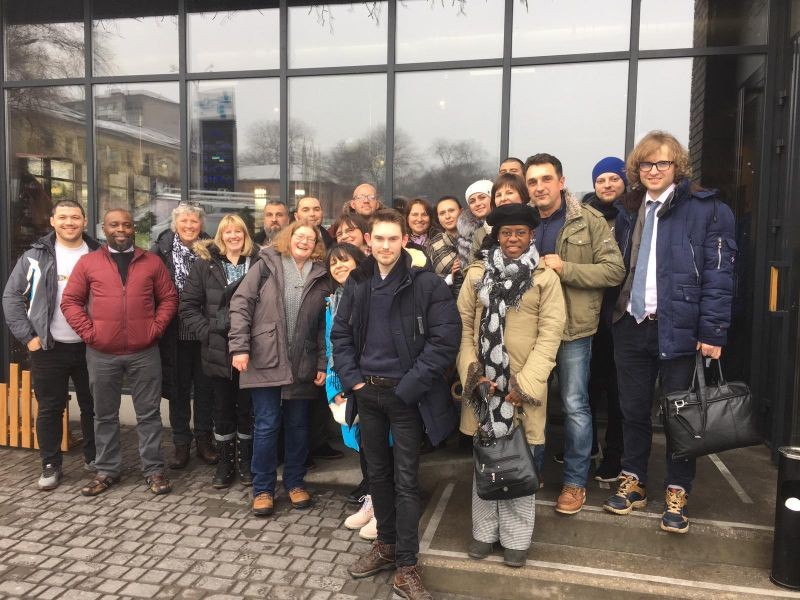 The DHM group with our local partners outside the Roadhouse Restaurant in Kamenskoe on Sunday 3rd February 2019
Before we know it, it's already time to return to the church, where we've now been asked if we'd lead the evening service. One of the highlights of this service is when DHM volunteer, Hayley, sings a solo of a song in Ukrainian that she has learned, called "Prayer for Ukraine".
I look around me as Hayley sings. Several people in the congregation stand up and place their hands on their hearts and quietly sing along. By the time Hayley gets to the second verse, I notice tears rolling down the cheeks of dozens of those in the church. It's a poignant moment.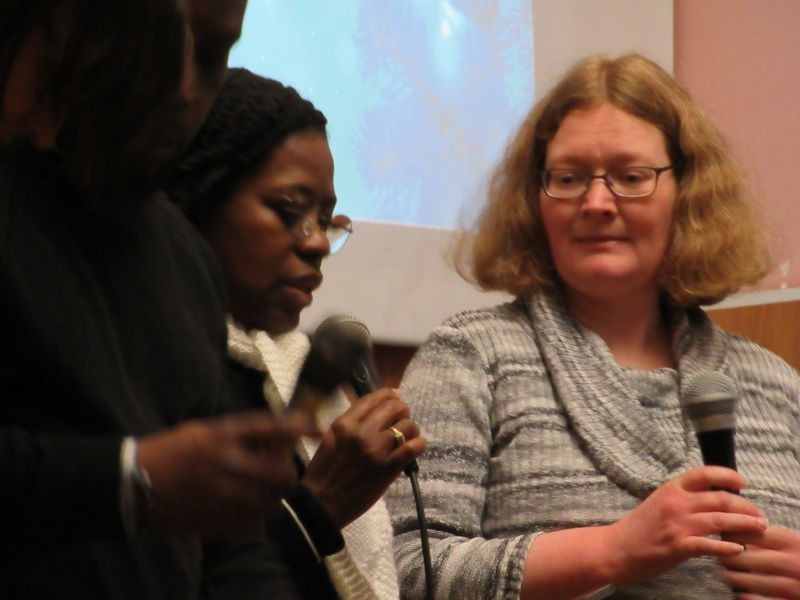 Hayley (right), who sings for the UK Parliament Choir, held the congregation spellbound as she sang a solo of "Prayer for Ukraine"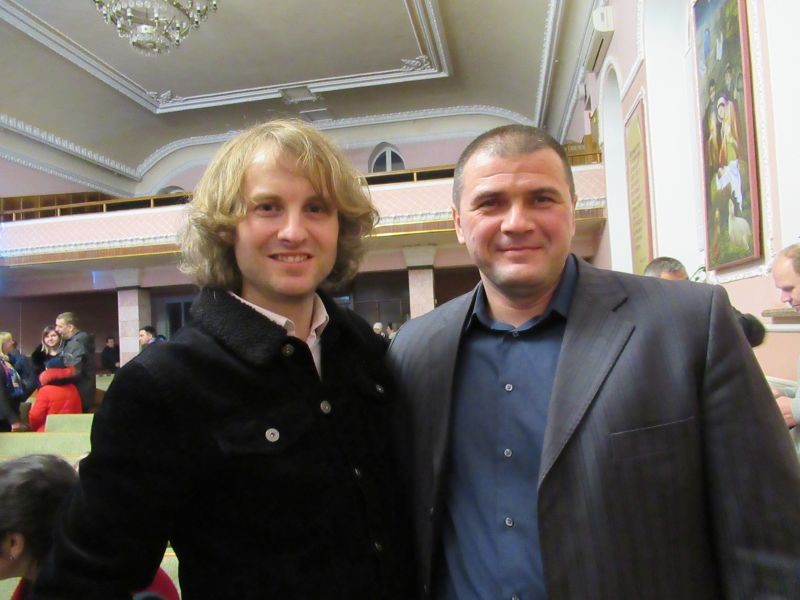 Joshua with Alexei, a member of the ministry team at Kamenskoe Pentecostal Church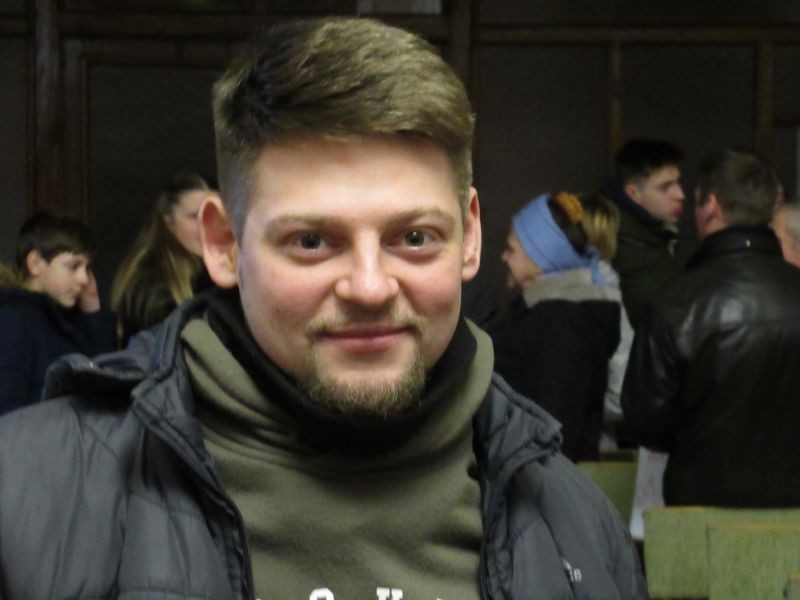 DHM volunteer, Iliya, at the Pentecostal Church in Kamenskoe. Iliya is the husband of Karine, who is DHM's Community Outreach Co-ordinator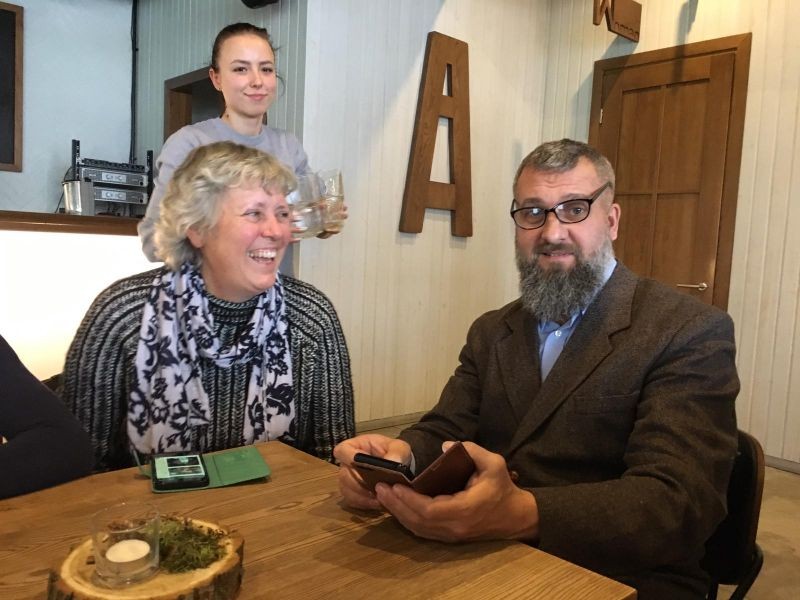 Gill with Andrei at the Roadhouse Restaurant. Andrei is DHM's Team Leader in Eastern Ukraine
After the service, the team travels back to the hotel for a very well-earned rest! Tomorrow promises to be another day of revelation and blessing…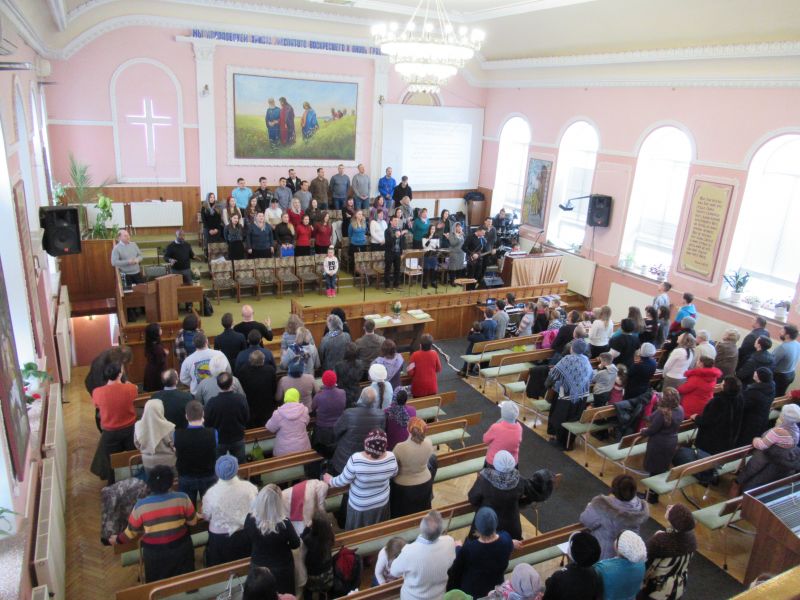 Sunday morning worship at Kamenskoe Pentecostal Church