In this blog, a female refugee explains how she received food and shelter and a warm welcome from Poltava Baptist Church, one of DHM's main partner churches in Eastern Ukraine. Donations made to DHM have helped to pay for this vital, life-saving aid. Please keep the donations coming. Although the news is less prominent, the needs of our partners in Ukraine are increasing rather than decreasing….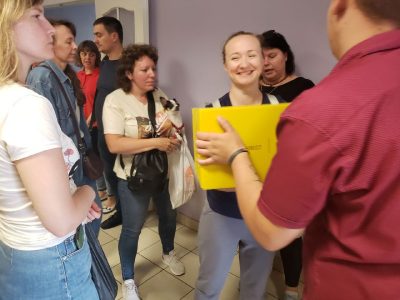 "I got to meet the people from this church for the first time four weeks ago when I came to the church, like everyone else, for humanitarian aid.
Our life changed after February 24, and simple things became impossible due to the lack of money, problems with employment, and lack of understanding how much longer we will need to live in this survival mode. Therefore, the primary reason for coming to church was the possibility to get some humanitarian aid.
The church people greeted us with smiles. My husband and I were invited to the table with Pastor Serhiy as a leader. At the table we found out that we are helped here not only by believers from Ukraine, but also by parishioners from other parts of the world. It was so surprising to find out that someone on the other side of the globe was taking care of you.
The chance we get here to communicate with internally displaced people who have the same problems as ours, made it clear that we are not alone in our plight. Serhiy's explanation why all of this is happening to us brought an awareness that our situation isn't hopeless.
For two Saturdays in a row, our sons, aged thirteen and eighteen, have also been attending church. The children finally want to leave home and communicate with others, their despair and fear about tomorrow are gone. They get answers to their questions and go to church with a big pleasure.
I am very glad that some power from above has brought me to the Salvation church."