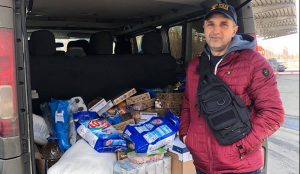 Sasha Boiko is a Ukrainian pastor, who leads a small Baptist church in the town of Vasylkivka in the Dnipro region of Eastern Ukraine.
For several years, our charity, Dnipro Hope Mission (DHM, a UK-registered charity; number 1177504), has been working with Pastor Sasha, supporting his ministry to a local orphanage and a nearby care home for elderly and infirm people. He also makes regular home visits to vulnerable and needy people in the town of Vasylkivka and the surrounding villages.
Through his ministry, which involves bringing life-saving medicines to care home residents and impoverished pensioners, he has been able to save many lives and has also seen dozens of people coming to a saving faith in Christ, as a result of his compassionate care.
Since the Russian invasion at the end of 24th February, DHM has stepped up its support to Pastor Sasha, who is working very long hours. He not only continues his regular visits to the care homes, but is now also travelling literally to the frontlines to offer pastoral support, as well as food, water and fresh clothes, to Ukrainian soldiers who are defending Ukraine from the Russian attacks. He often risks his life in the process, but trusts in God's grace to keep him safe from harm.
Pastor Sasha's wife, Iryna, works as a head of council of a small town just outside of the town of Vasylkivka. Since the whole region has been placed on a war footing, her workload has increased enormously.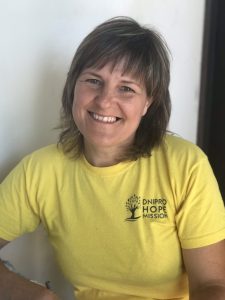 Sasha and Iryna have three children. Their eldest daughter, Daryna, qualified from medical school as a doctor in 2019, just before the outbreak of COVID-19. After experiencing the trauma of the pandemic, Daryna now works very long hours on the wards of Dnipro State Hospital, treating soldiers returning from the frontlines with horrific injuries, such as third-degree burns, mangled limbs and gangrene. The constant horrors that she is witnessing on a daily basis is understandably taking its toll on her mental health.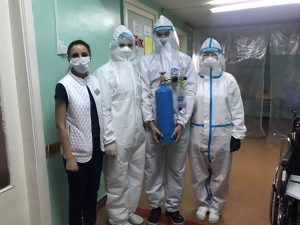 As a Baptist pastor in Ukraine, Sasha does not receive any salary and does his ministry on a voluntary basis. He works occasional jobs, such as doing shifts at a local veterinary clinic and helping out at a local scrap yard, to make a living.
The problem is that since the start of the war, there is very little paid work available and millions of people have been left unemployed. Although Iryna continues to earn around 200 USD (around £160) per month, this is not enough to support the family, especially now that the war and inflation have led to enormous increases in the costs of living. Dr Daryna, despite her very demanding and responsible job, only earns around 400 USD (£320) per month.
The family is struggling financially and this is causing extra stress at a time of unprecedented challenges and dangers.
While DHM has been able to find some sponsors to support the family, we have only been able to raise £120 per month to support Sasha and the family in their ministry. We'd like to be able to raise this amount to around £300 to £400 per month, which would ease the pressure and free Pastor Sasha to devote all of his time and talents to his ministry of compassion to the sick, elderly and disabled, and to the Ukrainian soldiers on the frontline.
To be able to provide this level of support, we are looking for people in the UK who would be willing to make a long-term commitment to supporting the family with a monthly standing order to DHM, which would be designated to supporting the family. If 20 people, for example, could commit to giving £20 per month, we'd be able to send £400 each month to the family. Donations could be sent to DHM, which as a UK-registered charity, would also be able to claim Gift Aid on any donations made.
If you're based in the UK, you may set up a standing order, using these details:
Bank Name – Lloyds
Account Name – DNIPRO HOPE MISSION
Sort code – 30 90 91
Account Number – 68149860
If you're based outside of the UK, you may donate through Paypal – more details HERE.
Please indicate in your note that you intend the donation to go to supporting the Boiko family.
Thank you for your support and solidarity with the people of Ukraine.
Joshua T. Searle
Chair of Trustees, DHM