Dear supporter, so much has happened and the situation in Ukraine is heart-breaking.
The war is dragging on and many are 'news-weary' but it is even more wearying for the people in Ukraine! Please do keep supporting our efforts – remember the money goes directly to our ministry partners living in Ukraine to relieve suffering and to make God's Kingdom a visible reality in Ukraine.
So, starting with some good news: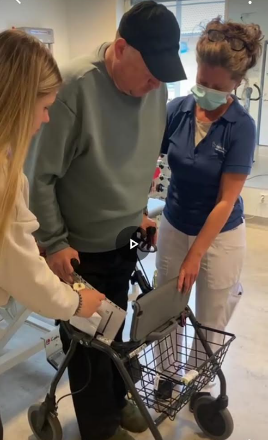 Pastor Alexander D, who led a thriving ministry to the disabled in Kyiv prior to his accident, has made his first supported steps. To give some context to this and a reminder about the background story, family and friends helped him escape an upper floor apartment in Kyiv where he was bed-bound, they eventually made it to a suitable medical centre in Europe with medical staff being shocked that he had survived pneumonia and other complications resulting from the trauma. Alexander has constantly told others that God is good, and he continues to bring new disciples to God's kingdom. 
All the pastors and churches we are supporting in Ukraine remain active in bringing life-saving support to their communities. 
Miraculously, they continue to do so, and this helps keep hope alive.
We are supporting pastors and local churches in many regions and, while we cannot give details for all of them right now because some are in sensitive areas, funds for life-saving supplies has been given to Donetsk, Zaporizhe, Berdyansk, Novomoskovsk, Khust and also Lviv where accommodation and support is provided for people who have fled from the front lines. 
In Other News…
Pastor Sergey (Poltava) It was international children's day in Ukraine on 1st June. Pastor Sergey and his team organised a fun day, with lots of activities, bible stories and gifts for 180 children. DHM provided the funds to enable this, giving hope and a sense of normality to both the children and their mums / grandparents. Most dads are serving in the Ukrainian army or in other vital support roles and Sergey's team support both their local community and are providing accommodation and caring for many internally displaced people.