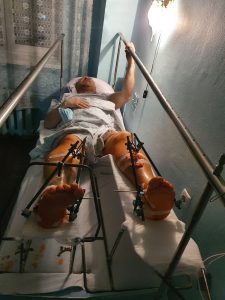 Thanks to everyone who has responded so generously with prayers and financial support for our friend in Kyiv, Pastor Alexander, after his horrific accident last month.
In the past few weeks, he's undergone 8 separate operations, each lasting between 1 and 4 hours. Since he has a heart condition, he was unable to be under general anaesthetic, meaning that he had to be awake and conscious while surgeons performed painstaking surgery under local anaesthetic. He lost consciousness several times during the various operations and described the experience a being like "Golgotha". He said that he could feel the prayer and support that he had received throughout his ordeal from his friends in the UK.
Pastor Alexander has been an inspiration for many over the past few weeks, not least to the other patients on his ward in the hospital in Kyiv. Two of the patients on his ward were so moved by the visits of the disabled people and Pastor Alexander's witness, that he was able to lead them to faith in Christ and he's invited them to join his church fellowship for disabled people.
Thanks to everyone who has responded so generously to the appeal to help with Alexander's recovery fund. We're especially grateful for the generous response of members of Reigate Baptist Church, and to Pastor Mike Williams. It is a blessing and a comfort to Alexander that Reigate has committed to praying for him and supporting him in his amazing ministry.
We're also very grateful for generous donations from members at New Malden Baptist Church, Epsom Baptist Church, as well as other anonymous individual donations.
Alexander's wife, Julia, recently sent us this update:
All operations are done, thank you Lord! You carried us in your hands of sincere prayers, and we are so grateful for you. There were 8 ops in total and even the fact that Alexander managed them all was already a miracle. When you know how much pain you are going to go through after surgery and realise that in three days there is another operation, only faith and trust in God can help. I like this quote: "God is not our last hope, but our ONLY HOPE". There is a plan to make our hospital "covid-treatment" one, which it used to be before our Lord opened this hospital for Alexander to have all ops done. It reminds me of a story of the Red Sea divided for the Israelites. Every step of this journey is a testimony, thank you Lord!
So, we have approached a time of rehabilitation and we need your prayers. Praying for specialists who would work with Alexander's joints (he can't bend his knees at the moment). Also, he will be discharged from the hospital in a few days, and we don't know how to take him home and help him to be mobile in our flat.
What lies ahead of us? After two, four and six months we will have check-ups (CT scans) to see how he is healing. After two months he should start walking on his toes in a swimming pool (also lots of questions of how). After a 6 months scan we will know if he can stand on his feet… and then learn to walk.
It's a very long journey and we continue to need your prayerful support. May God bless you for your faithfulness.
Alexander will continue to need support in the months ahead. If you'd like to support him, please give to DHM and indicate that you'd like the funds to be used to help Pastor Alexander. There are a number of ways to give, including through Stewardship or through a standing order or one-off payment to the DHM account: Sort Code: 30-90-91 / Account Number: 68149860