I was struck by the quality and authenticity of the fellowship among the wider European Mennonite family. I cannot remember attending a theological conference that was pervaded by such a deep and meaningful sense of community.
Given my links to Ukraine through my work with DHM, it was a blessing to meet the group from Zaporizhe Mennonite Church in Eastern Ukraine. The Ukrainians had a stall where they presented their work among the homeless, refugees, drug addicts and other marginalised groups in one of the poorest regions in Europe.
There were about 15 young people who had come to the conference with a couple of the leaders of the church. They had all travelled together in an old minibus virtually non-stop for 3,000 miles from Ukraine.
I decided early on that I didn't want to stay in a hotel. Instead, I opted for accommodation with a host family. I stayed with Andre and Danielle, an elderly Mennonite couple who live in a modest little house in a village about five miles from the conference venue. Staying with this wonderful couple gave me a new insight into the transformative power of generous hospitality.
When I told them that I was training for a marathon, they took me out in their car each evening to the Swiss border, from where I could run to and from Switzerland and be back home in time for dinner.
One evening while Andre was driving me back from the conference centre, he noticed a car with Dutch number plates, driven by an elderly couple. They looked lost. Andre indicated the car to stop and we managed to work out that the Dutch couple were trying to find a campsite. Directing the car to follow him, he drove through miles of winding country lanes until eventually we arrived at the campsite. The Dutch couple were overwhelmed with gratitude. They would never have found the campsite without Andre's help. On our way back home from the campsite, I said to Andre in my faltering schoolboy French that he had done a very kind thing for the Dutch couple. He responded simply, "I had to help them. They were lost. It's what Jesus would have done."
Also staying in the house of Danielle and Andre was a Ukrainian couple, Aleksei and Oksana. On the final day of the conference, Aleksei asked if there was a petrol station. Danielle said that there was one on the way to the conference centre from their house. When we arrived at the petrol station, Aleksei filled the minibus with diesel. It came well to over €100. Before Aleksei even had a chance to get out his wallet, Danielle stopped him with a firm "Non! Je vais payer!" and indicated with her own wallet that she wanted to pay. She went to the cashier and paid in full.
I was amazed. For the Ukrainian couple the price of the full tank of fuel would have been roughly equivalent to what they would both earn in a month. When we got back into the car and Aleksei explained to Oksana what had happened, she was overcome with emotion. It was an amazing moment and an example of Christlike generosity, which remains one of my most abiding memories from the whole conference.
Joshua T. Searle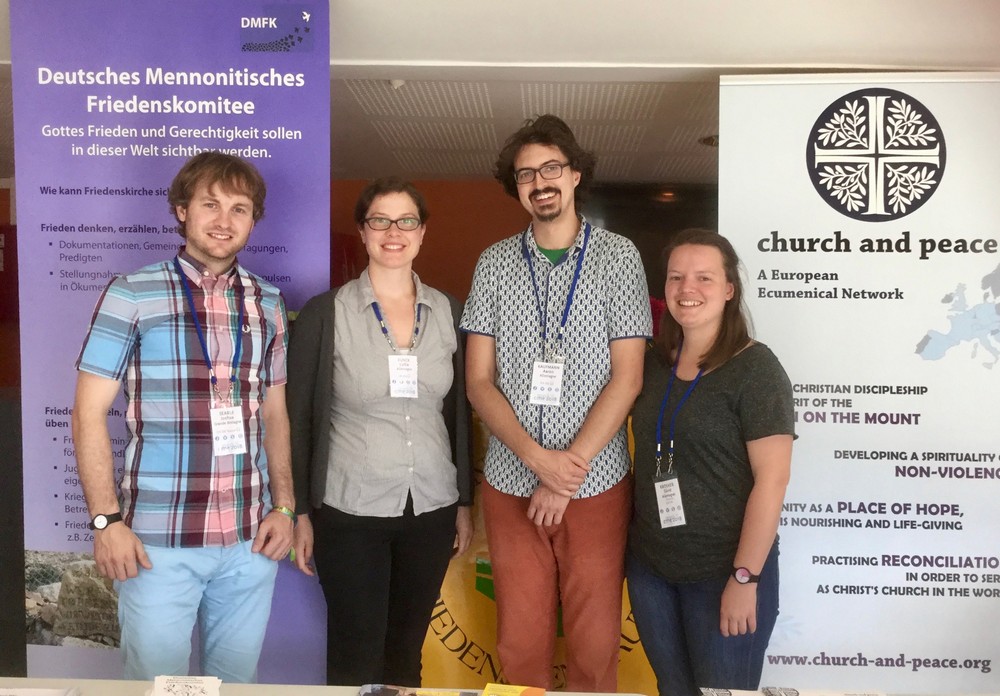 At the conference with the young leaders of the Mennonite organisation, Church and Peace