Just before Christmas, a team from DHM was invited to speak at Longfleet Baptist Church in the beautiful seaside town of Poole on the south coast of England. Joshua and Varduyi were welcomed by the minister, Rev. Suzie Roberts, who graduated just last year from Spurgeon's College with First Class Honours. Suzie will serve as the group chaplain during the DHM mission trip to Ukraine between 1st and 8th February 2019.
A fluent Scottish  Gaelic speaker, Suzie used to work as a journalist for the BBC's Gaelic service before receiving a call to train for ministry. She's not been on a mission trip before, so she's excited about what awaits her in Ukraine. Having spent much of her life in the Highlands and Islands of Northern Scotland, she should be more accustomed to the freezing temperatures than most of the other members of the DHM mission team this year!
When we asked her about how she was feeling about the upcoming trip, Suzie replied:
"There are just a few weeks to go until we head over to Ukraine now and it's all getting very real, now that the busyness of Christmas is behind us! I'm a little nervous but excited excited to see what God's doing in Ukraine and how we can join in. I'm also feeling honoured to have been asked to take the role of chaplain for the trip and would really value your prayers as I prepare for that."
During the service at Longfleet, Joshua preached from Scripture (Matthew 25: 31-40) on the topic of compassion and sharing God's love with the world at the time of Advent when we celebrate the coming of God's Son, Jesus Christ, to the world.
Varduyi also led the congregation in a presentation all about Ukraine, which included a quiz which tested the congregation's knowledge of Ukraine.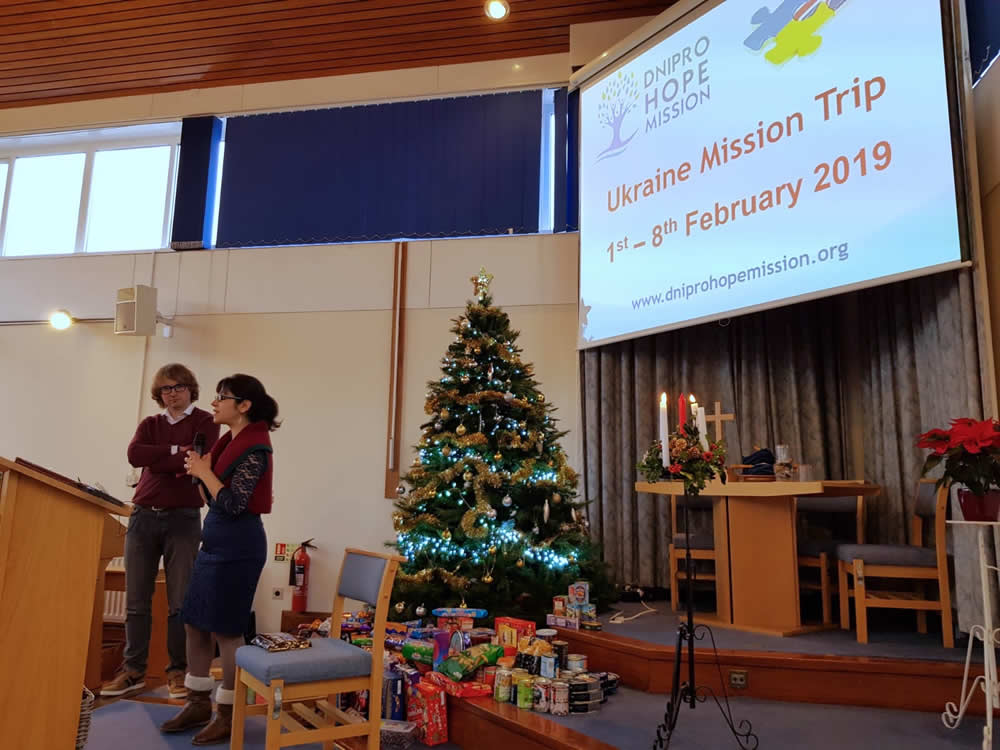 As a charity we're so grateful for the support we receive from churches in the UK. It is a sign of the kingdom of God in action when Christians from diverse cultures and languages show solidarity with each other and recognise that, despite their differences, they are all brothers and sisters in Christ.
You can sponsor Suzie and the other volunteers on the trip by clicking through to our Paypal donations page.