DHM International Advisory Board member, Michael Cherenkov, has returned to his home region in Eastern Ukraine to help the ministry of our friend and mission partner, Pastor Vasyl. Michael and his wife, Nina, have been distributing bread from the bakery that is funded by DHM. They have also been leading training sessions for pastors traumatised by the barbaric Russian invasion of Ukraine. Michael just sent us this report from his trip to the Donetsk Region…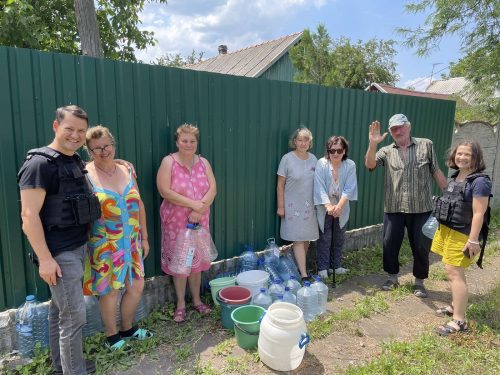 Peace be with you, friends. We are grateful for your prayers and support for our missionary journey through Ukraine.
We set ourselves three goals: to encourage existing ministers, to help potential leaders find themselves in the ministry, and to serve in word and deed in evangelism and charity.
We have held "How to Get Through a Crisis" seminars for seminary students and young leaders in Lviv, Ivano-Frankivsk, and Kyiv. We also held a series of consultations with the pastors of churches in Kharkov and Novomoskovsk.
And now our attention is directed to serving those who are in need, and serving those who serve in the Donetsk Region. Serving those who serve – this is an important part of the mission of the church. We visited ministers of Mirnograd, Pokrovsk, Selidovo, Ukrainsk, Krasnogorovka to pray, communicate and share our resources. In the coming days we will visit Toretsk, Kramatorsk, Druzhkovka, Liman, Izyum.
In addition to meetings with ministers, we serve in different cities with bread and water. Fresh bread is baked in a Christian bakery in Mirnograd, and water is delivered from a filtering station that operates on the territory of the Salvation Rock Church in Pokrovsk.
After the Russians destroyed the dam of the Karlovka Reservoir, the north-west of the Donetsk region was left completely without water. And at this time, it is the church that becomes the center of life. People come here for water, but here they learn about the water of life, about the Word of God. Fresh bread and clean water are not only helping people, but also Christian symbols of hope and peace.
Today, there is nothing more important than being with people in need – listening to their stories, sharing water and bread, and praying for God's salvation.
Rev. Dr Michael Cherenkov
Pokrovsk, July 2023