DHM is now registered as a Charitable Incorporated Organisation with the Charity Commission of England and Wales (number 1177504)! 
This is a significant milestone for our movement, which opens up new opportunities to develop and expand our work for God's Kingdom in Eastern Ukraine.

At DHM we are sustained by our faith and belief that we are simply a part of what God is doing in Ukraine. We have seen God at work in Ukraine in powerful ways. Even in the short time that DHM has been active, we have already seen lives changed and communities transformed by the saving power of the gospel.
We believe that although we are a young charity, we have all the ingredients for growth and development via a dynamic and diverse team of talented, energetic and committed trustees, project leaders and local volunteers. We will introduce each member of the team individually in subsequent posts and you can find out all about why they are so passionate about DHM, so please stay tuned!
We'd like to invite you to become part of a movement that is bringing transformation to this part of the world. If there is anything that you can do to help us, please just let us know.
For instance, we would like to support some building and plumbing projects to improve conditions in a disabled home in Eastern Ukraine with which we are in contact. Perhaps you might be able to travel to Ukraine as part of a DHM team of volunteers to do some building work? If so, please get in touch through the "Contact" page on our website.
Or perhaps you might have legal and/or financial expertise, which will help DHM to deal with complex financial issues such as handling the charity VAT regime, managing Gift Aid, financial auditing and management of contracts. Again, please drop us a line if you can offer your help.
Perhaps you might like to support DHM with a regular donation. As a young charity, which does not employ any paid staff, we rely entirely on the goodwill of our volunteer trustees and workers, as well as the donations of our supporters. We really need a core group of people who are willing to make regular donations so that we can support our projects in Ukraine, such as ministry to disabled homes, orphanages, homeless shelters and refugee centres.
Please contact us if you are willing to support our charity in this way and we will send you a standing order form.
Without your support DHM would not exist and we would not be able to bring healing and hope to some of the most marginal and deprived people in the whole of Europe.
Thank you for your support!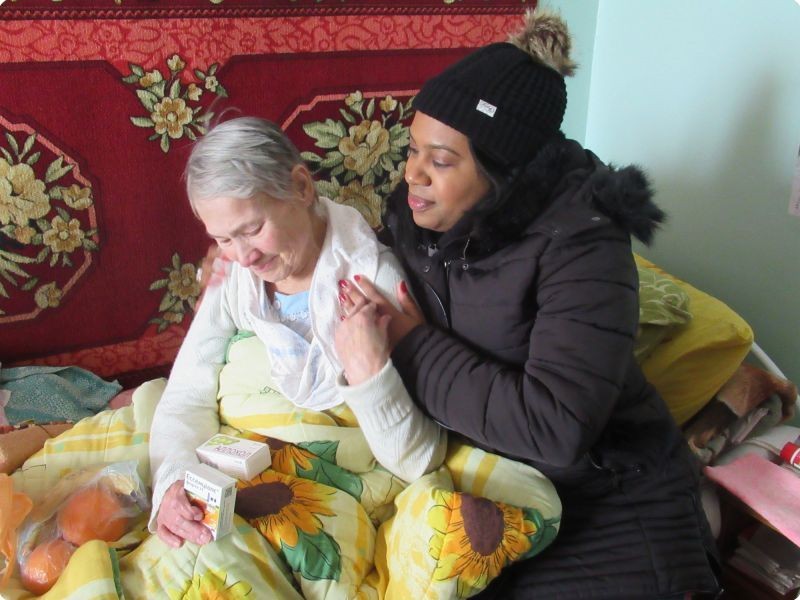 Help us to help people like Valentina pictured above with DHM volunteer, Carolyn. Valentina was abandoned by her family when she became infirm and she was left in a disabled home. Here Carolyn brings her some medicine, which was funded by the generosity of those who donated towards our 2018 mission trip. Thanks to these donations, we were able to give essential medicine packages for each of the 163 residents, including Valentina.