The day begins, as usual, with morning prayers and breakfast. We then head out in the minibus and meet our local partners from Kamenskoe Pentecostal Church. We travel together to the town of Verkhnedneprovsk, about 30 miles north of Kamenskoe, where we arrive at a care home for boys with various disabilities.
The care home makes an unforgettable first impression. The DHM team has barely had time to step out of the minibus and already we are overwhelmed with hugs, handshakes and high-fives from the young men who have come out to greet us.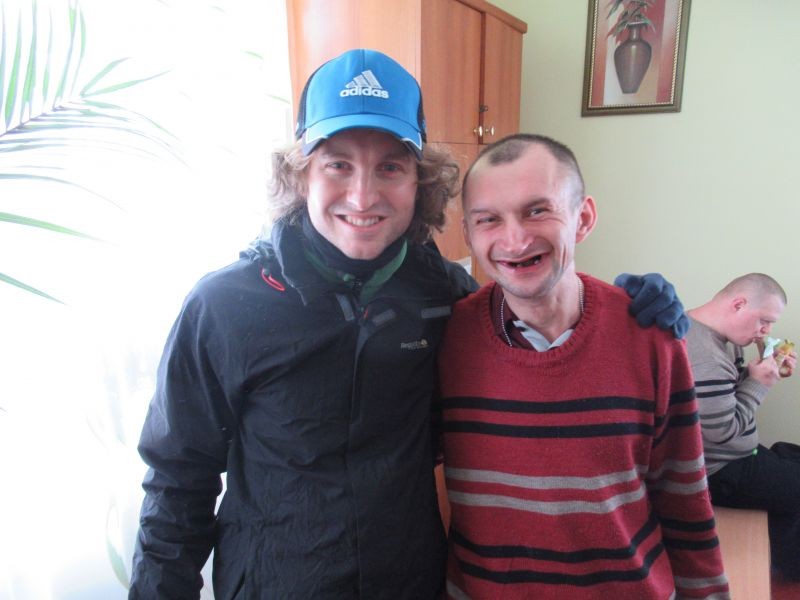 Joshua with Dmytro at the Care Home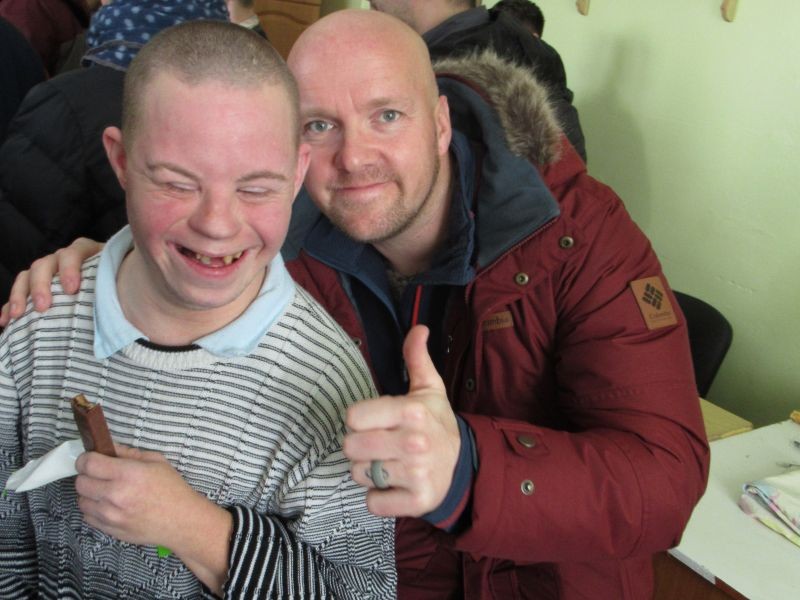 DHM volunteer, Nat, gives the thumbs up!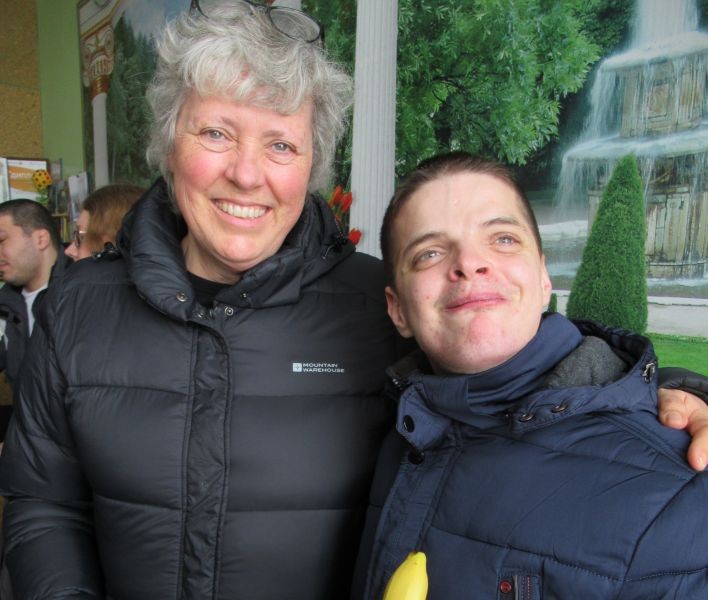 Gill with Artyem at the care home
DHM volunteer, Jacquie from Surrey, prays for a deaf young man at the care home
Thanks to the generosity of friends and supporters who donated generously to DHM ahead of the trip, DHM was able to buy over £1,000-worth of essential supplies for the care home, including items of clothing, as well as food and drinks and fresh fruit for every single one of the nearly 200 boys and young men who call this place their home.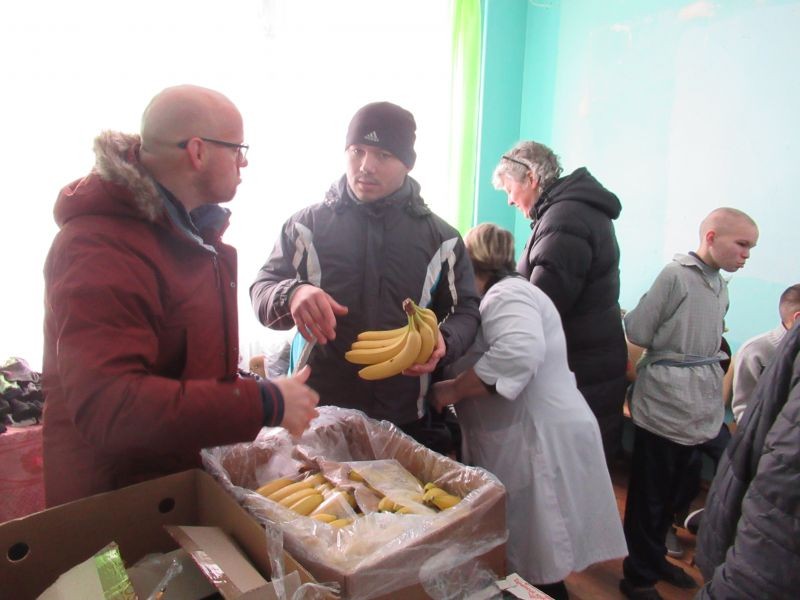 DHM volunteers, Nat, Artur and Gill, hand out fresh fruit to the boys at the care home. This fruit was purchased by DHM from donations received during the fundraising campaign launched ahead of the trip.
Oleg and Alexei and their team of volunteers lead us around the care home as we visit the young people, room by room, offering prayers, encouragement and leaving behind gifts for each of the boys we meet.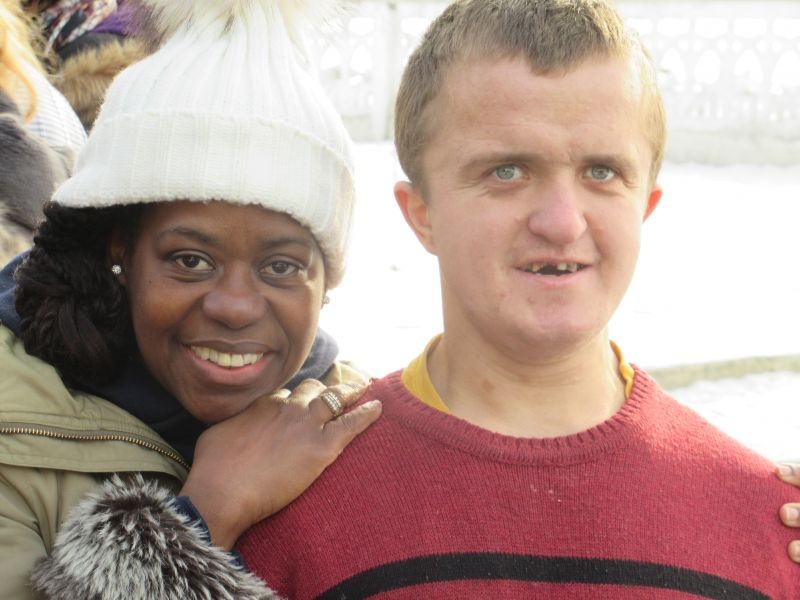 DHM volunteer, Jennifer, poses for a photo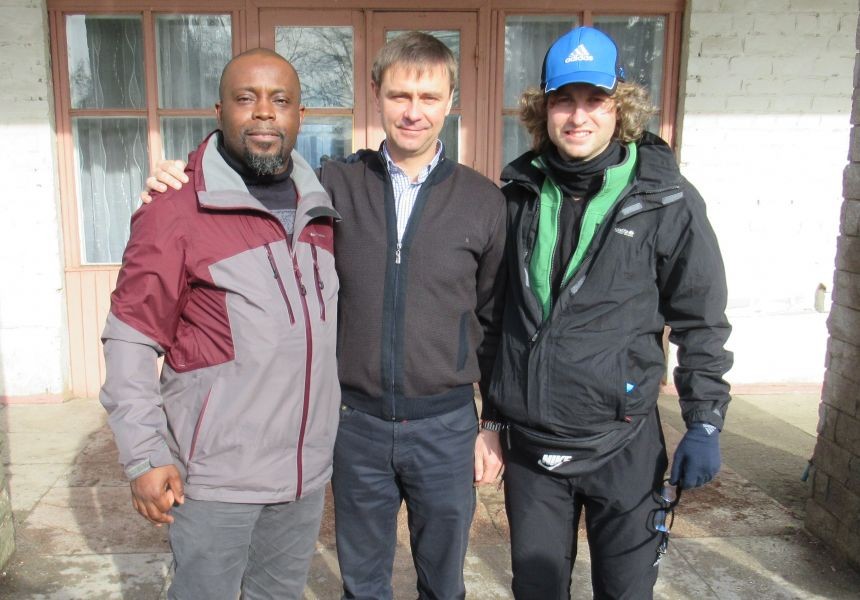 DHM leaders with Evgeniy, Director of the Care Home
We're amazed at how talented several of these boys are. One of the young lads, Sasha from Dnipro, an orphan abandoned by his alcoholic parents has an amazing gift for embroidery.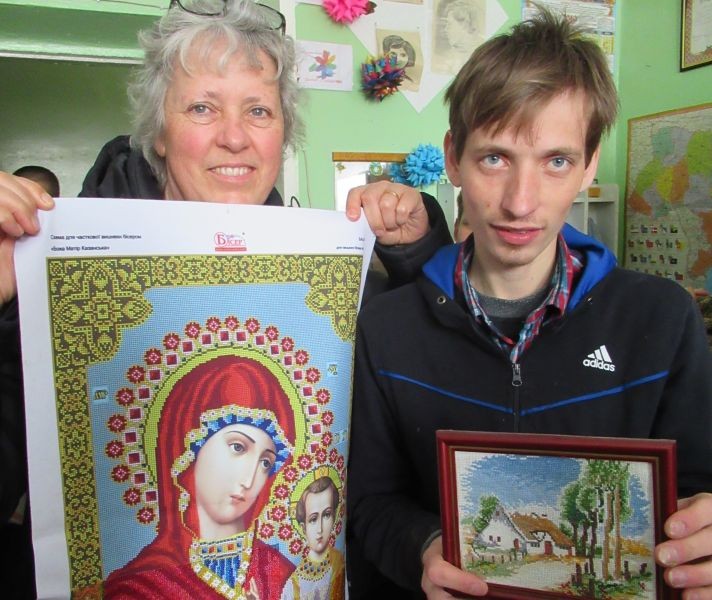 Sasha shows off his impressive work with DHM volunteer, Gill
Tolik, a young man in his early twenties, who tells us that he doesn't even know who his parents are, amazes the group with his artistic flair. He graciously gives us one of his recent paintings.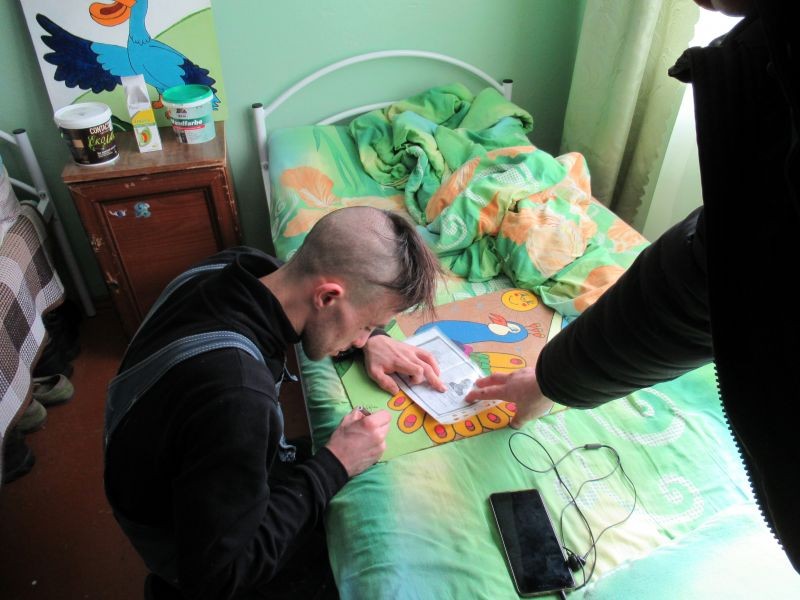 Tolik, the artist, signs his painting. When we asked for his signature, it turned out that he was illiterate, so Oleg had to get his passport, so that Tolik could see his name and "draw" his signature onto his painting!
Yuri has a special gift for making paper models. When he shows us an entire tea set made entirely of rolled-up paper, the DHM group is speechless at the care, attention and skill that went into producing this magnificent piece of art.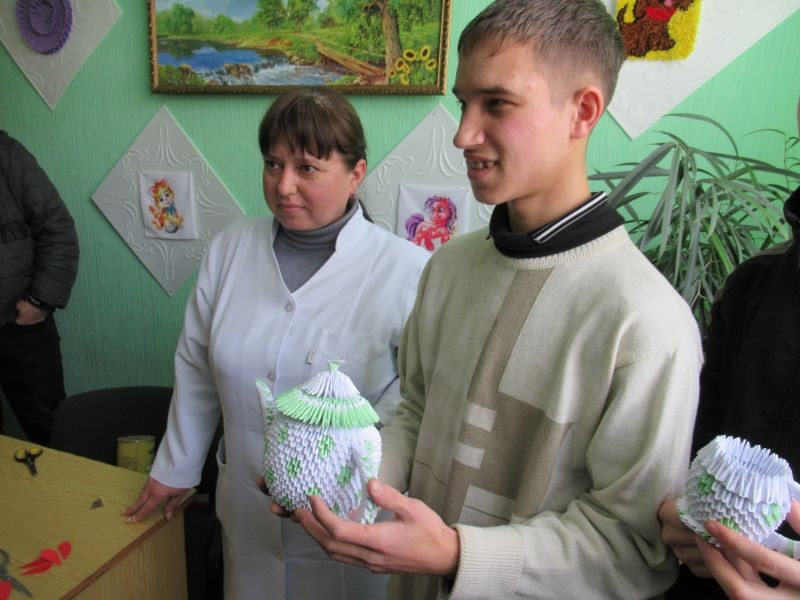 Yuri shows off the paper kettle that he made and gave to the DHM team as a memento – what a gift!
The DHM team with local volunteers from the church and some of the young men outside the main entrance of the care home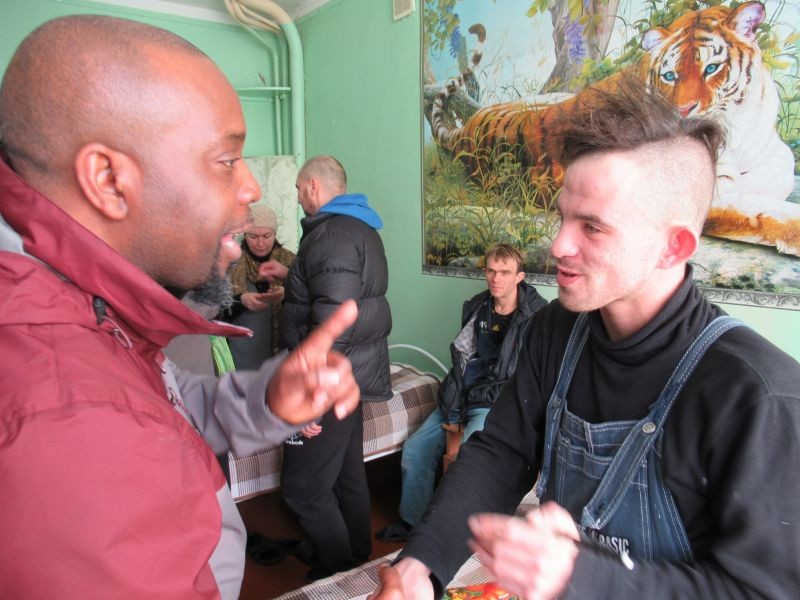 Deji gives a word of encouragement to Tolik
It was soon time to say farewell. What an overwhelming experience!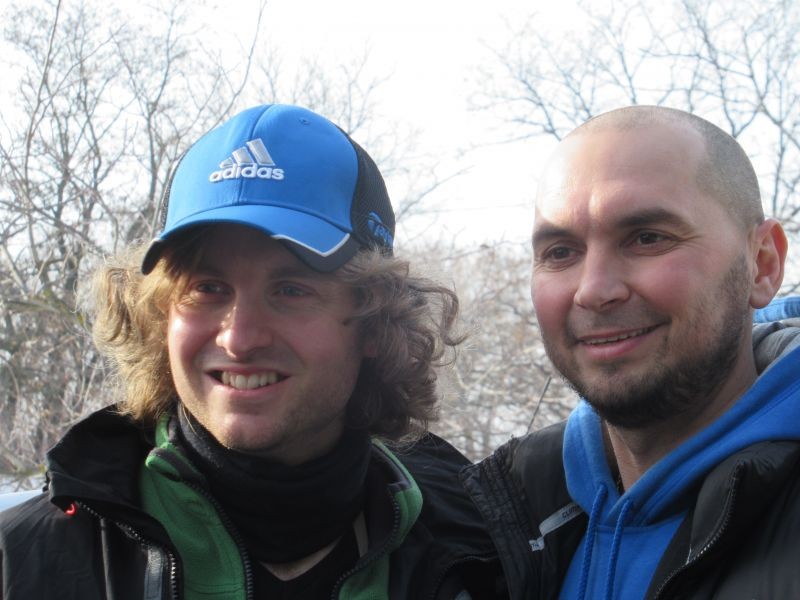 Joshua with Oleg, who with Alexei, leads the church's ministry to the care home
We leave with Oleg and Alexei and have a quick pizza lunch before embarking on our long journey eastwards towards Vasilkyvka, the location of DHM's House of Hope, which was to be our base for the second half of our trip.
Arriving into Vasylkivka at around 21:00, we were given an amazing welcome by our team, who had been looking forward to our visit for many months. Our gracious hosts treated us to a sumptuous banquet of borsch, fried potatoes, shashlik meat, and roasted vegetables.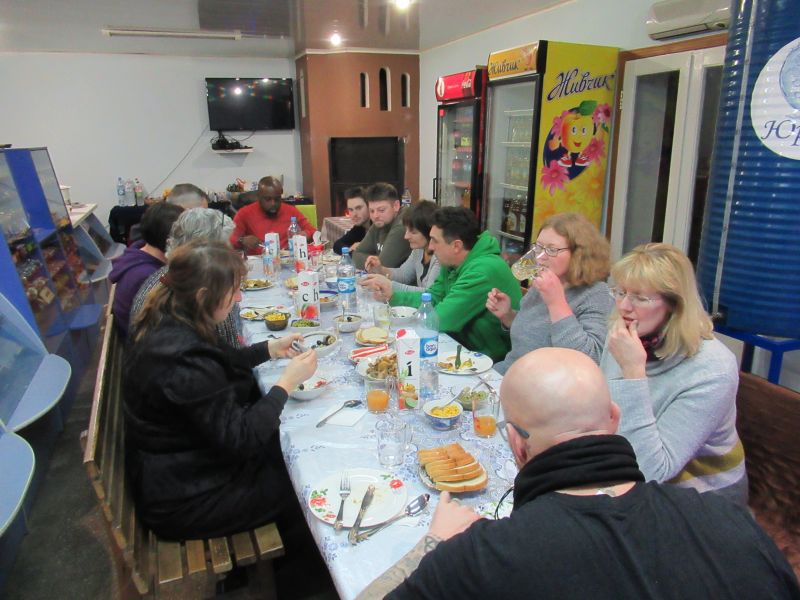 Dinner at the House of Hope
After saying evening prayer and sharing our thoughts and reflections on the day, the team retires to bed, ready for a more relaxing day (hopefully!) tomorrow!