We woke at 3:00am and took taxis to West Croydon bus station to catch the 4:15 bus to Heathrow Airport. We arrived at Terminal 5 in good time, checked in and boarded our flight with British Airways to Kyiv. Arriiving at Boryspol International Airport, we were greeted by our good friend, Andrei Platovskiy, who is the DHM Team Leader for Eastern Ukraine.
At the airport Andrei took us to meet Pastor Alexander from Transformation Baptist Church in Kyiv. Alexander had brought his minibus to the airport and kindly offered us a lift to our hotel. After leaving our luggage in the hotel, we walked to a nearby restaurant for a delicious meal, before taking the underground train to the main central square in downtown Kyiv, known as the Maidan.
On Maidan we were met by our friend, Rev. Denys Gorenkov, who is a Baptist minister and used to be a leading figure in the Ukrainian evangelical student union. Denys was an active participant in the 2013-14 Revolution in Ukraine, which resulted in the democratic overthrow of the corrupt regime of the disgraced former President of Ukraine, Viktor Yanukovych.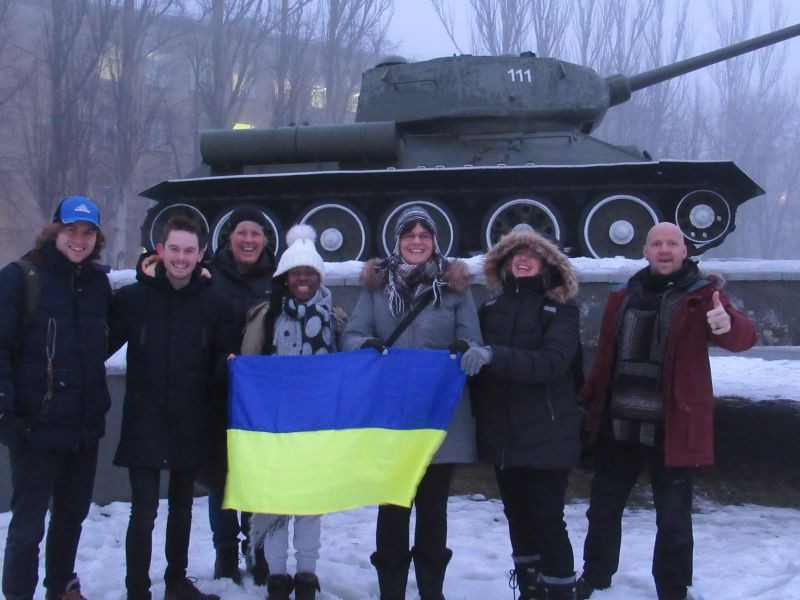 The DHM group poses for a photograph at a WW2 commemoration on Victory Avenue, nearby our hotel in western Kyiv
Denys led our group on a tour of Maidan and gave amoving account of the turbulent events, which resulted in the deaths of over one hundred protestors. The streets streamed with the blood of those who had been shot by Yanukovych's snipers. Amid the chaos, Denys and friends took a stand for peace by joining with Orthodox and Catholic Priests to form a human barrier separating the police from the protestors.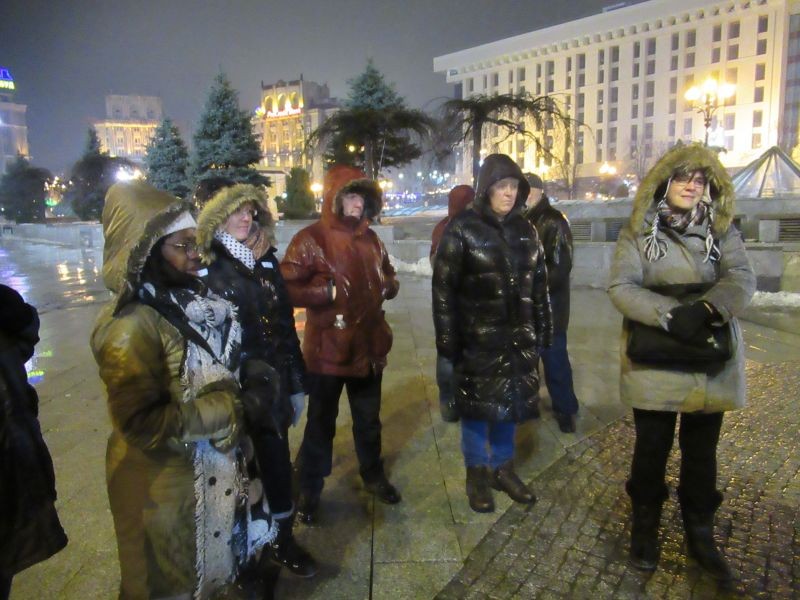 The DHM team stands on the site of the Prayer Tent on Maidan in central Kyiv
With bullets whizzing around their heads, Denys and his friends took a stand for peace and later established a prayer tent in the middle of Maidan, where people could come to receive care and moral and spiritual support amid the chaos and violence. Now, almost exactly five years on, the DHM group stands with Denys, forming a cicle around the exact spot where the prayer tent stood. Together, hand in hand and under a torrent of rain, we pray for peace and reconciliation in Ukraine.
From Maidan, we head towards the nearby cathedrals, St Sophia's and then onto St Michael's. We end up in a cafe in the pleasant Podil district just north of the centre of Kyiv.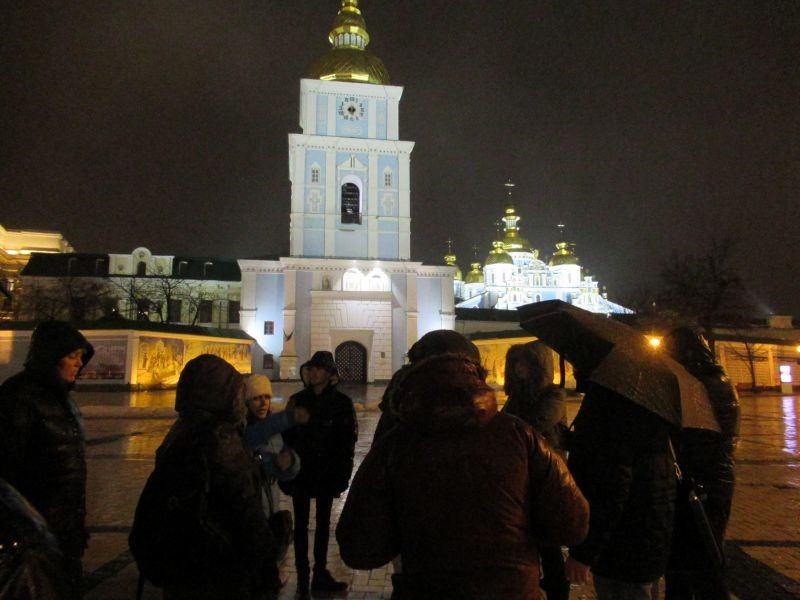 The DHM group prays outside St Michael's Cathedral, where the protestors in 2013 found refuge from the violence on Maidan
After parting with Denys, the group returns on the underground to the hotel in the Shulyavsky district. It's a late night, but thankfully, the group can enjoy a well-earned mini lie-in tomorrow morning, when new surprises await us…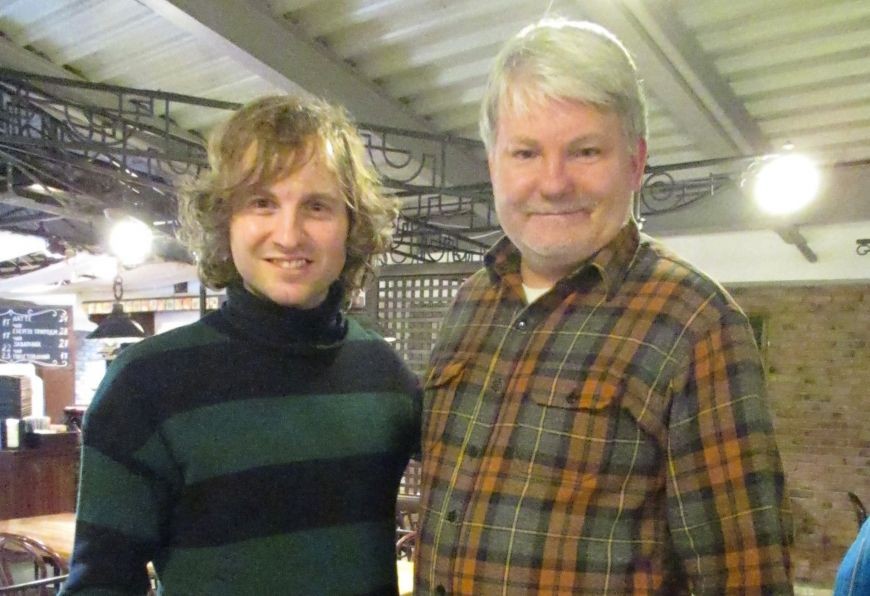 Joshua with Denys at a cafe in central Kyiv